You have your power team, you've determined your top business drivers, and you've even developed your short list of business needs your ERP system must meet. What next? Time to factor in the cost versus the value of a new ERP system.
Can you put a value on your ERP system? Assume you will be asked to show ROI or Return on Investment. If you cannot prove the monetary value of your new ERP system will outweigh the cost, you'll probably end up dead in the water. Unfortunately, the financial impact of a new ERP system can be difficult to measure. Difficult, but not impossible.
In this blog, we'll tackle the easier of the two issues, costs, though "easy" is a relative term, here. First, ask yourself the right question, which is: What will be the true cost of the solution? To calculate the total cost of ownership (TCO), you'll need a comprehensive, itemized price list, along with your company's documented customization approvals. Having the list and the approvals will minimize if not eradicate "scope creep,1" which can cost your company tens if not hundreds of thousands of dollars.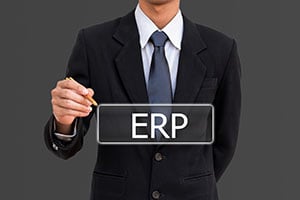 Costs
Up-Front Costs: Basic Pricing Information:
Like a new car's sticker price, the "entry-level" costs of a new ERP system include the core functionalities and supporting technologies; however, those rarely cover all your ERP system needs. Be sure that the ERP vendor has factored your "short-list" of requirements into the initial sticker price as much as possible.
(Potentially) Hidden Costs:
The following costs may or may not be a part of the initial "sticker price," but they will need to be included in the overall price of the TCO:
Licensing Fee: This line item covers either on-premises license fees or cloud subscription fees if you are working with a software-as-a-service (Saas) provider, and it is usually a part of the up-front pricing. But this cost will vary depending on your number of users or the number of add-in modules or capabilities (short-list requirements) you need, so be sure you have as accurate a count of people and documented requirements as possible to include in the pricing. Be careful when calculating this fee because what is standard in one ERP can be a pricey add-in or customization for another one.
Vendor/Partner Consultation Hours for Implementation: Nothing rarely goes as planned, and as much as you desire the ERP rollout to be hassle-free, you should factor in consultation support. How many service hours will you need to ensure the new ERP system will be up and running as quickly as possible and covering your key business processes? Be sure to factor in any "extras" needed to cover requirement gaps that are not part of the initial pricing.
Vendor Training & Support: Support and training help your staff efficiently utilize your new ERP system. When calculating this cost, ask the vendor what all is included. Will your departments have access to training videos and documentation, an online knowledgebase, online resources, a user community, in-person training, 24-hour access to a call center? Have you factored in temporary support you may need to cover normal hours during employee training sessions? Thanks to the due diligence of your ERP selection team, you should already know what your users will need, so be sure your vendor includes these necessary items in the costs.
Ongoing Costs:
Maintenance & Protection: When you buy a new car, the costs don't stop the minute you drive it off the lot, and the same applies to the costs associated with your new ERP system. What do you need to ensure your new system continues to run as efficiently as the day you "drove it off the lot"? And more importantly, how do you protect your company's investment? Your pricing should include three important items: routine maintenance, hardware/software upgrades, and a comprehensive data security approach. As data hacking and ransomware become more prevalent in our digital society, it is imperative not to skimp on this last line item. One key advantage of a cloud provider versus an on-premises one is the former will provide disaster recovery and data security as part of their subscription. The cloud provider will also manage the maintenance and upgrades for you as opposed to an on-premises deployment. All key advantages to consider when selecting your new ERP.
Overall, when calculating the cost versus value of your ERP system selection, consider three things: You don't have to pay full sticker price, you shouldn't overpromise and underdeliver on the ROI, and most importantly, you don't have to go it alone. Consider hiring a consultant who has experience in negotiating the best price for the right ERP system for you, even those ERP vendors you considered out of your price range.
Once you have accurately accessed the up-front, hidden, and ongoing costs of your ERP implementation, you can better determine what your return on investment (ROI) will be, which we will cover in our final addition to this series.
---