In this special blog series, ERP for Small and Midsize Manufacturers, we'll discuss how SMBs are gaining an edge in the Manufacturing industry through ERP software. From flexible deployment options to mission-critical functionality, you'll learn what to look for to extend the value and shelf life of your next ERP system.
When your focus turns to growth as a small or midsize manufacturer, one of your first priorities is mitigating risk. We've already discussed how an ERP system can help strengthen your operations and keep your organization nimble when experiencing market shakeups. But how can ERP help SMB manufacturers prepare for a business shift they're initiating themselves?
Whether your sights are set on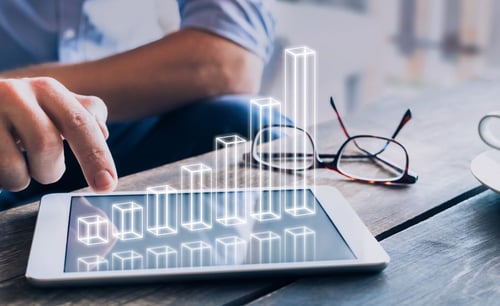 deeper market penetration, introducing new services or priming your company for acquisition, your ERP system will allow you to not only assess your current state of affairs but also forecast whether your strategy is likely to pay off in the long run.
Increasing Market Share
Perhaps the first business growth strategy that comes to mind is increasing market share, by either ramping up presence in existing markets or expanding to new ones. Your ERP system can run sophisticated reports in marketing and sales to help illuminate areas of opportunity. For example, these tools may be effective in weighing the pros and cons of an omnichannel strategy that incorporates a direct-to-consumer option or helps you establish an international presence. A more traditional tactic that can be effective in claiming new business is competitively discounting current services. Your ERP system can help run "what-if" scenarios and rule-based pricing schemes to help you evaluate current market trends before rolling out a new pricing structure.
Introducing New Capabilities
Offering innovative services and cutting-edge technologies can be essential to staying ahead in today's competitive manufacturing landscape – but big moves often require big investments. Fortunately, an ERP system can help forecast demand for specific services in various market sectors while considering the costs of labor, equipment and needed materials. Today's emerging manufacturing technologies range from robots and voice-activation assistants to 3D printing and environmentally friendly processes. Which, if any, of these services will see traction with your client base? Armed with insights from your ERP system, SMB manufacturers can confidently refresh their offerings to align with the needs of their customers.
Establishing Partnerships or Preparing for M&A
If your goal is to merge with, be acquired by or otherwise partner with another company, then consider your ERP system a secret weapon. By leveraging your ERP system to streamline processes, create real-time data streams and increase transparency of your daily transactions, you are making your organization more attractive to potential collaborators. Your ERP system's automated workflows and high-level reporting make it easy to illustrate the value of your operations. Not only that, working with a modern ERP system also means a painless system integration is baked into the deal.
Whatever your aspirations for growth as an SMB manufacturer, don't take a leap on instincts alone. Your ERP software provides the ultimate gut check. There's no way to see the future, but your ERP system can do the next best thing.
---