It's unusual to read anything about the manufacturing industry these days that doesn't mention "digital transformation" and the "cloud." Manufacturers are adopting sophisticated new tools to revolutionize their supply chains and optimize their processes. While some small and midsize manufacturers may not have a desire or need to dedicate significant capital to a completely digitized supply chain, many are taking steps to modernize their operations through sensible investments in new technologies.
If you fall into this camp, an industry-specific cloud-based ERP system like Infor CloudSuite Industrial (Syteline) may be the solution you are looking for. Let's discuss why so many manufacturers have added cloud-based ERP to their 2020 budget and the benefits that stand to be gained through implementation.
Traditional On-Premise ERP vs. Cloud-Based ERP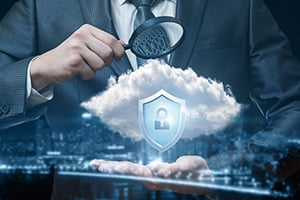 Traditional on-premise ERP used to carry a hefty upfront capital cost, making it difficult for smaller companies to get the green light for implementation. There's the price of the software and hardware, but there are also servers, licenses and an intricate web of networking technologies. On top of that, there's also the time an IT team must dedicate to managing upgrades every 18 months, which can mean downtime for your systems – and operations.
Now, as manufacturers look for ways to remain agile in an increasingly complex and competitive market, cloud-based ERP is emerging as a flexible foundation for businesses looking to transform – digitally and otherwise.
Cloud-based ERP solutions provide an alternative to the costly, labor-intensive job of managing a traditional on-premise ERP system. They require notably less upfront capital, as subscribing to cloud-based services is covered by operational costs. And in comparison, to on-premise options, cloud-based systems offer distinct advantages. Employees can easily access the system while away from the office, and version-less software upgrades happen seamlessly in the background, eliminating the outages and operational disruptions that can accompany on-premise system updates.

Cloud Deployment Options
Despite the benefits, there continues to be some doubt around the security and reliability of cloud hosting. It is true that depending on your business, you'll need to do your homework to ensure your hosting arrangement meets industry standards and/or regulations. Fortunately, the demand for cloud-based ERP has spurred a spectrum of solutions – from public, multi-tenant options to private, single-tenant clouds to hybrid models that lie somewhere in between.
Public Multi-Tenant Cloud

Many manufacturers opt to engage with a hosting partner and work from a public cloud. This sort of arrangement often comes with expert IT support as well as backup systems, which can offer a high level of security and uptime. For example, the Infor Cloud wraps another layer of added security around Amazon Web Services (AWS), further protecting from ransomware and other security threats. Utilizing a third-party cloud can also give manufacturers more flexibility to quickly augment server bandwidth in times of peak demand or company growth – especially if working from a subscription model. However, should you choose to operate from a public cloud, it's important to understand how data is siloed and access is managed by your cloud provider. If your industry has compliance requirements, do their security measures allow you to meet them?
Private Single-Tenant Cloud
Alternatively, some manufacturers, particularly in FDA-regulated industries, prefer to operate on a single-tenant cloud. This can be achieved by hosting a private cloud yourself or using a third-party option. In either case, a private cloud arrangement will afford you more control over your infrastructure and allow you to design an environment tailored to your unique security and data management needs.
Your budget and timeline can help determine whether a private, company-owned cloud or third-party, single-tenant cloud is right for you. Your implementation partner can also work with you to review hybrid options.

Conclusion
There are a lot of variables at play in this today's manufacturing markets, and small and midsize manufacturers are rightfully doing all they can to maintain control in a volatile industry. For many, that's where digital transformation and cloud hosting options come in. If you are not constricted by security and regulatory constraints and are looking to empower your workforce to remain nimble and productive, a multi-tenant ERP can be a wise first step.
Looking for a flexible cloud-based ERP solution?

Learn how The Copley Consulting Group's
cloud-based ERP offering
can be tailored to your exact needs.
Choosing an ERP Consultant
One-size-fits-all is not an option when it comes to ERP systems. The Copley Consulting Group knows there are several factors to determine the right fit for your organization. When working to implement your ERP solution, Copley can provide the technology and support needed for your specific industry and business when choosing between cloud-based or an on-premise Infor CSI (SyteLine) ERP. To discuss the right ERP system for your organization, complete our contact form, call us at 855-884-5305, or email us at info@copleycg.com.
---