Ask a room of manufacturers about their organizations' goals for 2020, and you'll find that target numbers may be more modest than in years past.
This cautious outlook is largely driven by the global purchasing manager's index (PMI), which, in 2019, saw several consecutive months below 50.0, the level that distinguishes between expansion and contraction. At year's end, U.S. manufacturing activity fell to 47.2 – the lowest level seen since June 2009, when the U.S. economy was nearing the end of the Great Recession.
Unsurprisingly, this trend is expected to continue into 2020, so many manufacturers are focusing their energies on how to optimize their operations to remain nimble in the year ahead. In this four-part blog series on ERP trends, we will discuss the tools and approaches many small and medium-sized businesses (SMBs) are taking to achieve this. First, let's look at the three primary factors setting the stage for 2020 and how they are expected to play out moving forward.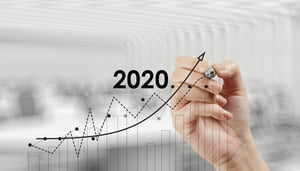 1. Slowed Job Growth
The manufacturing sector has seen a slowdown in job growth, adding just 6,000 jobs per month on average in 2019 compared with 22,000 per month in 2018, according to Deloitte. The outlook for 2020 is not far off, as manufacturers closed out 2019 shedding 12,000 jobs in the month of December.
With fewer hands on deck, SMBs are looking to digital tools like ERP to do more with less and maintain their footing in a rapidly evolving market. For example, many organizations are turning their focus to streamlining, validating and hardwiring optimized workflows, so employees can shift their focus from manual tasks to roles that better utilize their time and skills. A concentration on process and operational resilience is expected for the year ahead.
2. Tariff Uncertainties
Manufacturers' momentum has also taken a hit due to uncertainties over tariffs, which has resulted in daily cost fluctuations in the manufacturing value chain. This has prompted manufacturers to pivot sourcing and production to new regions of the world. In the first three quarters of 2019, US imports from China dropped 13 percent, while imports from Mexico increased by 6 percent and imports from Vietnam jumped 37 percent, according to Deloitte.

SMBs are realizing that, in many cases, they must reimagine their supply chains and flex production and delivery plans. Business insights, including up-to-the-minute inventory data and predictive analytics, can help manufacturers achieve the flexibility required to succeed under unpredictable conditions.
3. Weak Demand
International demand has weakened, and manufacturers feel less than optimistic that this trend will right itself in 2020. Instead, many are turning their focus to managing risk and finding ways to break into emerging markets.
To do so, manufacturers are investing in digital tools to help strengthen their agility in global supply chains. These cutting-edge technologies, including artificial intelligence, cloud computing and advance analytics, can deliver the insights needed to respond to fluctuating market conditions and meet the needs of new customers and niches.

Conclusion
Although the New Year is typically a time of optimism, the Manufacturers' Outlook Survey report found just 67.9 percent of manufacturers are optimistic about their business, compared with 93.9 in 2018. However, if recent history of the industry tells us anything, it's that the winds can – and will – change. Over the course of this blog series, we'll walk you through ways to assess and improve your internal processes so that no matter where the year takes you, your business is stronger by the end of it.
Looking to gain an edge in the year ahead? Download our e-book, "Leveraging ERP for SMB Success: A 5-Step Guide for Small and Midsize Manufacturers," to learn more.

Choosing an ERP Consultant
One-size-fits-all is not an option when it comes to ERP systems. The Copley Consulting Group knows there are several factors to determine the right fit for your organization. When working to implement your ERP solution, Copley can provide the technology and support needed for your specific industry and business when choosing between cloud-based or an on-premise Infor CSI (SyteLine) ERP. To discuss the right ERP system for your organization, complete our contact form, call us at 855-884-5305, or email us at info@copleycg.com.
---