Most FDA/Regulated industries have taken a conservative approach to adopting innovative technologies, and given the high-demand environment in which they operate, their concerns are valid. But cloud-based software has come a long way in meeting the rigorous demands of regulated industries, and as a result, moving to the cloud can prove to be one of the best resolutions you make for the year 2021.
Meeting the Challenges of Title 21:
To comply with Title 21 of the Code of Federal Regulations; Electronic Records; Electronic Signatures (21 CFR Part 11) the FDA recommends the following:
"We suggest that your decision to validate computerized systems, and the extent of the validation, take into account the impact the systems have on your ability to meet predicate rule requirements. You should also consider the impact those systems might have on the accuracy, reliability, integrity, availability, and authenticity of required records and signatures. We recommend that you base your approach on a justified and documented risk assessment and a determination of the potential of the system to affect product quality and safety, and record integrity."
That's a weighty recommendation. Regulators in the life science industry require strict compliance standards for a software provider's ERP solutions, plus additional validation for the company using the solution based on their extensions and business processes. This additional company-level validation can make professionals hesitant to move to a multi-tenant cloud ERP and either remain with or pursue an on-premises or hosted/single-tenant cloud deployment. At least that way, they can control the timing of installing updates or performing an upgrade as well as oversee their extensive validations cycles throughout the process. But this thinking can cost more time, money and labor than if they moved their ERP solution to a multi-tenant cloud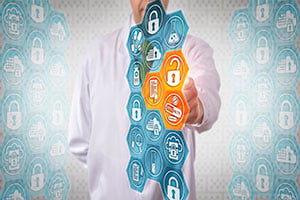 solution that supports regulated industries. With its proven security models and a high reliability rating, cloud-computing has now become widely accepted across many industries, and more life sciences firms are beginning their journey.
ERP Vendor Compliance:
First and foremost, you need to work with an ERP vendor who provides a solution with both the development processes and product features that meet or exceed the needs of Food and Drug Administration (FDA)-regulated customers. Having a fully documented Quality Management System (QMS) that adheres to GAMP/FDA/GMP guidelines and ISO 9001 standards as well as having full documentation and testing procedures as part of their standard development and product release process should be considered table stakes for any ERP Vendor. Software vendors should provide this level of compliance and validation for either on-premise or multi-tenant cloud deployments to start you on your cloud journey.
Company ERP Validation:
Traditionally, FDA/Regulated companies have opted for an on-premise deployment for ERP solutions, hoping to reduce security and compliance risks. During an initial implementation, validations of software extensions and business processes and operating procedures could take anywhere from six to eight months to complete. This deployment then allows the company to decide when to install updates or perform an upgrade because they manage and own all aspects of the solution. More importantly, it also provides the flexibility on the timing of doing additional validation work required to accompany the upgrade, new software version, and features.
Cloud ERP Option for FDA/Regulated
By deploying a cloud-based system, companies have seen a greater value to their ERP solution in terms of labor and cost. Cloud vendors now shoulder the burden of operating the system with resources and procedures to drive efficiency. And another big win for companies is the ability to allocate the cost as a monthly operating expense as opposed to a capital investment.
In a single-tenant or hosted cloud environment, FDA companies can again choose when to install updates or do an upgrade and manage their validations in the same way they have on-premises deployments. But, they lose out on the value of staying current with monthly updates and releases of the software.
In a multi-tenant deployment, the ERP vendor typically provides updates on a monthly basis, making the timing of updating validation tricky. This is one of the key reasons why companies have shied away from cloud deployments. FDA/regulated companies need the ability to preview these application updates, such as new versions, features and other application changes, before they are deployed to a production environment. Some ERP vendors provide this ability in a "pre-production environment" to perform this preview and validation.
Yet, FDA companies still aren't sure how to manage and perform the necessary validation on a monthly basis to check on their extensions and ensure their business processes are still aligned with the monthly update or release. To answer that need, some ERP providers offer testing as a service (TAAS), a testing automation platform that confirms the implementation and configuration (including extensions and external interfaces) still perform in accordance with applicable standards.
New Year's Regulated Industry… Go to the cloud.
The multi-tenant cloud, that is. Eradicate those years waiting to do an ERP upgrade and the days or months of manually overseeing extensive validations cycles throughout the implementation or upgrade process. By managing the laborious procedure of testing and validating new features and upgrades with your cloud-based vendor, you'll free up your time to pursue other lofty company goals for 2021.

---