Market growth drives the success of a small and medium sized business (SMB) manufacturers. It's not necessarily by what their business leaders plan. Product demand is rising, and in order to handle that rising demand, businesses need more capacity and are adding shifts and additional facilities to their small business.
Key customers are expanding overseas, and small businesses need to satisfy that expansion by moving into those same international markets.
Responding to the market growth and customer demand isn't a bad strategy, however, leaders need to take note of how their goods and services are being delivered to new customers. Are their small business strategies satisfying new customers?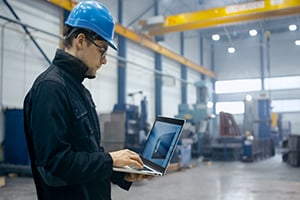 Regrettably, many SMB manufacturers fail to effectively plan for such growth. Executives are often left wondering why rising sales are not accompanied by rising profits. SMBs are already falling behind the operating performances of larger firms, which puts even more pressure on the expansion of the legacy processes and systems. SMB manufacturers investing in digital transformation, such as ERP solutions, are 21 percent more likely to be forecasting revenue growth than those that are still in the planning phase of digital transforming their business.
The MPI Group's MPI Manufacturing Study (March 2018) demonstrates the performance differences of SMBs (with a parent company with revenues of $50 million or less) vs. larger companies (with a parent company revenue of more than $50 million).
Productivity/sales per employee: average $166,621 at SMBs vs. $296,488 at larger companies
On-time delivery: average 78 percent at SMBs vs. 82 percent at larger companies
Customer retention: average 65 percent at SMBs vs. 69 percent at larger companies
Production volume (percent of designed capacity): average 66 percent at SMBs vs. 70 percent at larger companies
Gross margin: average 33 percent at SMBs vs. 44 percent at larger companies
Conclusion
SMB manufacturers can adopt modern planning methods leveraging ERP to improve the accuracy of their budgeting and forecasting, and ultimately improve their prospects for growth. Any organization looking to improve budgeting accountability can embrace ERP to improve the planning process. Through such planning, they can improve accountability, engage employees and managers, and lay down the road for more sustainable, scalable and attainable growth.
See why Zildjian, the largest family owned manufacturing business in the United States, partnered with The Copley Consulting Group to install, manage and support their ERP system.
Choosing an ERP Consultant
One-size-fits-all is not an option when it comes to ERP systems. The Copley Consulting Group knows there are several factors to determine the right fit for your organization. When working to implement your ERP solution, Copley can provide the technology and support needed for your specific industry and business when choosing between cloud-based or an on-premise ERP. To discuss the right ERP system for your organization, complete our contact form, call us at 855-884-5305, or email us at info@copleycg.com.
---