The impact of intelligence increases substantially when technology delivers valuable data - fast. Managers get instant access to information that they can use to make decisions on the fly to improve manufacturing processes.
In our blog series on analytics in manufacturing, we presented how analytics is more effective when focused on specific industry information, when the data is easy to use, and when the data helps predict what will happen next. As we continue exploring this topic, we now take a look at how embedded analytics takes manufacturers to a whole new level of intelligence and efficiency.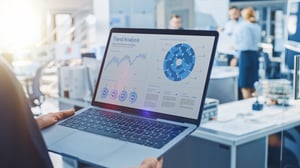 Why Embedded Analytics Deliver More Value Than Isolated BI Systems
When you have an embedded analytics solution, you can integrate business intelligence (BI) within applications to generate insights that are tailored to your business processes. So rather than generating data in a separate and perhaps isolated BI application, the information appears directly within an ERP, CRM, MRP, or other manufacturing process application.
The embedded approach gives users immediate access to data in the applications they work in every day. Rather than requiring people to switch to another application and take the time to run a report, or requiring the involvement of business analysts who have the necessary expertise to manipulate the BI application, you can put the data right in the hands of the end users. That way they can make decisions that are based on granular insight – on the fly.
Embedded analytics can range from inserting objects into web mash-ups to integrating analytic capabilities with visualizations directly into applications. It's all about delivering the precise information users need – when they need it – so they can make accurate predictions as they manage the sales pipeline, the supply chain, finances, and production.
Embedded in Action
Consider assembly line managers responsible for machine utilization and efficiency. They need to analyze many pieces of equipment that perform a variety of specialized tasks. This requires a real-time, holistic view of machine workload and performance. Embedded analytics makes this possible by integrating connected machines with process manufacturing and material requirements applications, and then producing dashboards for easy viewing of the resulting information.
With this visibility, assembly line managers can regularly check machines and take corrective actions earlier in the process so they can optimize production schedules according to machine availability. There's no need to wait for a business analyst to run a report or to take the time to switch between applications. The data simply flows into the routine interactions between users and process manufacturing and MRP applications.
For sales and marketing teams, embedded analytics can be just as powerful. Team members can integrate intelligence metrics with CRM platforms to help gain a better understanding of customer preferences and behaviors, stock availability, and optimal pricing. The necessary data shows up in the CRM program, giving instant insight that helps close sales and boost revenue.
A Necessity for Maintaining a Competitive Edge
Implementing analytics into your manufacturing process is critical for increasing the efficiency of your production, which enables you to be more nimble when responding to customer needs. IDC predicts that by 2020, 33% of manufacturing supply chains will use analytics-driven cognitive capabilities, with the expectation of increasing cost-efficiency by 10%.1
But the benefits of embedded analytics extend even further. When you deliver intelligence directly to applications where users spend most of their day, you are empowering them to provide more value as they conduct their daily responsibilities. With the right data in the right place at the right time, your business is in a stronger position to uncover new opportunities and exceed customer expectations.


Choosing an Analytics Consultant
There are few industries as complex and data intensive as manufacturing organizations. The Copley Consulting Group knows there are several factors to determine the right fit for your organization. When working to implement your analytics solution, Copley can provide the technology and support needed for your specific industry and business. To discuss an analytics solution for your organization, complete our contact form, call us at 855-884-5305, or email us at info@copleycg.com.
1 Top 10 Predictions for Global Manufacturing in 2018, IDC. IndustryWeek
---