Growing Life Sciences manufacturers need systems and solutions in place that help them remain compliant, while helping them grow their business. Implementing an ERP system to meet business requirements that is validated in accordance with FDA regulations is a continual challenge. Finding an ERP solution provider that best suits your needs and has experience developing and deploying an FDA-Regulated ERP solution can be another challenge.
In the past, companies traditionally saw all ERP solutions as the same. They would compare features and functionality, look at comparative costs, and then decide based upon a set of criteria. Little attention would be paid to the specific needs of the business, as it was thought you could not go wrong with, say, the brand leader.
Things are now changing, especially in a regulated market. According to Gartner, organizations that will be successful with postmodern ERP will make the shift in their ERP strategy from vendors at the center to being more focused on the specific requirements of their business. This focus on business needs is especially important for life sciences and medical device firms who have specific requirements when it comes to record keeping, quality and other factors.
Best Practice Configurations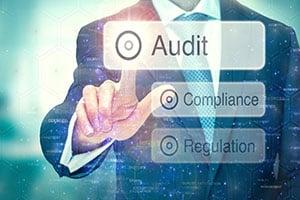 Most EPR implementations follow a best practice procedure to ensure the software is designed for ease of use and scalability as your company continues to grow. However, the best practice should also include a validated approach for your ERP software implementation as an FDA regulated company. While there are certainly best practices to follow in setting up your ERP solution, it is also critical that you ensure your software is properly validated for your environment.
Software Validation
FDA validation requirements differ across life science organizations. As an example, requirements can change depending on the type of device produced by the company. Regardless, when auditors perform their audits, they expect to see specific evidence of your software validation. They may request documentation such as test specification and test cases, risk analysis and a final validation report.
The Copley Consulting Group off­ers Infor CloudSuite Industrial in an FDA compliant IT Infrastructure. It is delivered with well-established protocols and validation scripts developed by Copley that meet regulatory requirements for computer systems in compliance with the FDA's 21 CFR Part 11. When you work with Copley, your validation process will be streamlined, resulting in documentation and a process that will guide your software compliance throughout the life of your system.
Benefits of Validated ERP
When organizations execute Copley's FDA Extended Solution to meet validation mandates, businesses realize several benefits:
• Increased ability to pass FDA audit
• Fewer recalls and corrective actions
• Validated processes to ensure quality of products produced

One important point to keep in mind is that a validated ERP system will help organizations meet FDA requirements for both software and operations.

Conclusion
Putting in place a risk assessment with software validation is critical for growing life science manufacturers. Often, the validation process can consume your company's valuable resources. This can span from tracking audit trails to email notifications. Copley's consultants, with deep knowledge of FDA regulations, provides the appropriate level of support to guide you through the process, either taking the lead in your validation project or supporting your efforts while your regulatory team provides the project stewardship.
If you have performed a proper risk assessment, you will be able to focus your company-specific usage testing on the critical areas of the software. With Copley, the regulatory software requirements such as audit trail and electronic signatures, along with critical business processes, will be met, ensuring a compliant system, as you grow revenues, drive efficiencies and streamline all aspects of your business.
Choosing an ERP Consultant
One-size-fits-all is not an option when it comes to ERP systems. The Copley Consulting Group knows there are several factors to determine the right fit for your organization. When working to implement your ERP solution, Copley can provide the technology and support needed for your specific industry and business when choosing between cloud-based or an on-premise Infor CSI (SyteLine) ERP. To discuss the right ERP system for your organization, complete our contact form, call us at 855-884-5305, or email us at info@copleycg.com.
---