Ready to upgrade or implement a new enterprise resource planning (ERP) solution? One of your initial decisions will be whether you want to deploy the solution on premise or in the cloud. Because The Copley Consulting Group offers Infor's CloudSuite Industrial (CSI)/Syteline in either the cloud or in an on premise, we can provide key insights into the advantages and disadvantages of each option. So, which is best for your organization? First, let's learn the key differences in each deployment option and how each should factor into your final decision.
Manufacturing Complexity:
How complex are your manufacturing functional requirements? Many organizations of all sizes do well with cloud-based deployed solutions which offer extensive native capabilities and best practice, business processes, so they require little to no customization. Cloud deployments, then, make it easier to stay version current and not worry about introducing future upgrades as these are delivered by the platform provider. For some specialized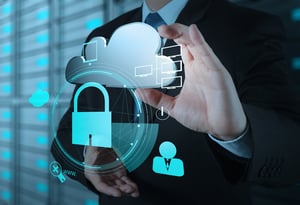 manufacturers with distinctive products and processes, however, on-premises deployments offer more flexibility in performing extensive customization requiring access to more deeply imbedded code to address the nuances of the business. Ironically, this flexibility limits your ability to stay current, forcing you to ante up again for new system upgrades and customizations. If your company can operate using the out-of-the-box cloud system with some extra configuration as opposed to more extensive customizations, then deploying in the cloud will be more than adequate to suit your purposes.
Security:
Is security one of your top priorities? Cloud-based systems offer a more mobile and accessible solution, as many companies need to access files from personal devices such as smart phones or tablets, especially in today's work-from-home environment. The good news is that cloud-based ERP solutions have been quick to employ better security standards, especially Infor's CloudSuite Industrial, which provides services such as data encryption, dynamic password management, and vulnerability and penetration testing. These services are included with your subscription fees and backed by Amazon Web Services for Infor's CloudSuite solutions.
Capital Investment v/s Operational Expense:
What part of your budget is available for your new ERP solution? Will you draw from capital or from operational expenditures? On-premises software requires a significant capital investment up front for a one-time license fee (based on the number of users and the size of your business) and implementation fees. This does not include recurring fees for support/maintenance, training, custom modifications and future updates. On-premises solutions also require an infrastructure such as servers, databases and operating systems; therefore, you may need to invest more capital up front for an on-premises deployment. Cloud solutions, on the other hand, are more of a pay-as-you-play service and operating expense. In the cloud, you typically pay a monthly per-user subscription fee which includes all infrastructure and security, support and maintenance, and future releases. But, just like with on-premises, you're still on the hook for implementation and training and any configuration or desired customization. Cloud software has continued to garner more popularity and can be more cost-effective up front, but in some cases, on-premises costs can even out over time.
Can You Have a Little Bit of Both?
Theoretically, yes. There is a third deployment option known as a "hybrid," where some solutions are deployed and accessed via cloud subscriptions and others deployed in an on-premises style. Cloud-based platforms like Infor's Cloudsuite Industrial have evolved to allow for integration with applications designed, and sometimes better suited for on premise deployments.
Choosing an ERP Consultant
Thoroughly confused? Just remember, a one-size-fits-all is not an option when it comes to manufacturing ERP solutions. The Copley Consulting Group knows there are several factors to determine the right fit for your organization. When working to implement your ERP solution, Copley can provide the technology and support needed for your specific industry and business when choosing between cloud ERP or an on-premises one. To discuss the right ERP system and deployment for your organization, complete our contact form, call us at 855-884-5305, or email us at info@copleycg.com.
.

---