According to Forbes magazine, "in the next 18 months or so, we'll continue to see a huge acceleration in deploying or migrating databases to the cloud, reaching 75% by 2022." Business intelligence solutions in the cloud represent the merging of two key trends—the progression of cloud computing as a cost-effective, agile platform for business applications and the use of BI technology to gain insight and improve the quality and speed of decision making.
To make the most of cloud BI, the chosen solution should have features that are easy to use, quick to deploy, and scalable as data and user demands grow. To find the best solution, each business must consider its own unique needs for multi-source data capability, data discovery, analytics, reporting, scalability, automation, and flexibility.
Changing from Reactive to Pre-Active (1)
In a world where data flows at a dizzying speed, decision makers are pursuing every available opportunity to garner a competitive edge, which means they keep an eye on what's trending in the data world. With cloud-based solutions, you can empower all company employees to be savvy decision makers. No longer does an employee need to be a data analyst or an IT professional to translate business intelligence into actionable results. Access to accurate data in a simplified language allows users to feel not only more proficient in data literacy but also more confident in making well-informed, data-driven decisions. As a result, users will have a faster speed to answer, especially when data identifies crucial issues that could cost your company time and money.
Sharing the Power
Cloud applications are deployed with the intent that users can easily share data with others, both inside and outside their organization. This makes it easy for users to collaborate and share insight with remote offices, suppliers, field sales organizations, partners, and customers. Also, since these applications can leverage data from anywhere in the world, users can integrate data from multiple, geographically dispersed data sources.
Rapid Return on Investment (ROI)
Cloud BI solutions are quick to deploy and easy to change and/or upgrade. Unlike traditional BI implementations, which can take a year or longer, cloud BI solutions can typically be up and running in a few weeks. With no additional hardware to install, no database to set up, and no software to install and configure, cloud solutions allow companies to start earning a return on their investment more quickly. Ongoing maintenance and configurations are also faster and easier to manage. Since the vendor controls the hardware and infrastructure, all software upgrades and changes are delivered to the customer automatically. Your personalization's and changes to the reporting and analysis tools can be handled by end-users with limited use of IT resources.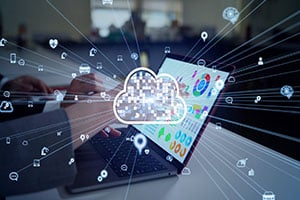 Lower Implementation Costs
With cloud solutions, like Qlik's, customers are not hit with setup costs involved in having an on-premises BI solution deployed. The platforms can be set up in a fraction of the time of traditional solutions, and the resources required to deploy a finished solution are dramatically reduced. Therefore, up-front costs for installation, setup, and implementation are significantly less than those for traditional solutions, meaning they are less risky to deploy and easier to budget. The subscription cost is typically based on the number of users, the volume of data analyzed, and a support plan. Subscription pricing ensures that customers pay only for what they need when they need it. Cloud solutions are paid for as subscriptions; the monthly cost is a regular, predictable operating expense and not a large, up-front payment as with conventional software. Another hidden "cost" you save? Time. Instead of heavily investing your time in the install, setup and deployment process, you can redirect it to fine tuning the reports and metrics you want out of the platform.
Scalability & Agility
Cloud solutions are designed to support many customers simultaneously. As organizations grow, BI cloud solutions can scale to meet the needs of more users and increased data demands. Unlike on-premises solutions, customers can expand their cloud solution without having to buy and deploy more hardware or install different, larger software servers. Unlike traditional solutions, cloud BI solutions can be modified easily, so non-technical users can quickly add new reports and dashboards, new data sources, and new analyses. A cloud BI platform can provide both easy-to-use data preparation capabilities for self-service data prep as well as the powerful data integration technologies.
Low Risk with a High Reward
As a subscription service, cloud solutions are a low-risk way to acquire business intelligence without the usual high costs, heavy commitments, advanced technical skills, or high resource requirements. The rewards of deeper business insights, improved efficiency, higher productivity, and lower costs make this a winning strategy for companies of all sizes. There's a reason that most experts believe three-fourths of the business world will migrate to the cloud by the end of this year. If you are wary of being one of the 25% who are left behind, contact Copley to see if cloud solutions are the future for your company.
1: https://www.qlik.com/us/-/media/files/resource-library/global-us/register/ebooks/eb-2021-data-and-bi-trends-en.pdf
---