Now that you've built your power team for the ERP selection process, what's next? Time to begin building your case. And to do that, you must first establish ERP goals based on your specific business needs. It is important to envision how the technology can be leveraged to improve activities not only within your business but also across the ecosystem your business serves.
When establishing your ERP goals to build your selection case, you should consider four key business drivers:
1: To improve business performance
This key driver almost goes without saying, but what core strengths should your new ERP system offer to improve performance? Answers will vary, from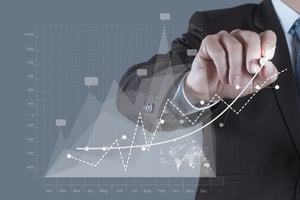 accelerating growth, reducing costs, introducing new products or services to improving efficiencies. But transparency typically ranks as one of the top strengths that all businesses need from their core ERP system for any of these performance improvements. For example, when an order is placed, all authorized ERP users should not only see the order request but also follow its progress through the business processes, from order entry, production, and distribution to invoicing and cash collections. Real-time updates and automated workflows increase productivity and fill knowledge gaps. The result? Customers receive their orders faster and with fewer errors than in the past, and company leaders gain insights to make smarter and faster business decisions. Ultimately, ranking your business goals and establishing Key Performance Indicators (KPIs) to measure them will help you choose the right ERP system that will best serve your needs.
2: To ensure compliance and minimize risk
For many industries, such as medical device or aerospace and defense manufacturing, regulatory compliance is a critical component of running a business, and it requires extensive data tracking. ERP systems eliminate most of the errors and risks associated with manual tracking. With all departments working from one system, it is possible to track compliance throughout a product's life cycle through functions like cradle-to-grave traceability and a complete audit trail of user activity. Additionally, ERP systems more easily track issues related to problem products or customer concerns so quality issues can be resolved more readily.
Part of selecting an ERP system means ensuring that it supports a comprehensive approach to regulations as well as to data security. Your selection team should ensure the new system has a framework that is certified for compliance with recognized standards, such as ISA 27001, GAMP/FDA/GMP, ITAR, 21 CFR 11, or FedRAMP. Top-tier ERP providers typically comply with these regulatory and security standards and maintain ongoing processes for staying compliant when those standards change or evolve. This business driver is so critical, the team should consider bringing in a third-party consultant that specializes in evaluating regulatory and security compliance to assist in the selection process.1
3: To simplify employee tasks
Although there may be a learning curve, many companies adopt ERP systems to make their employees' jobs easier. However, the learning curve shouldn't be too sharp: a modern ERP system should be intuitive and easy to use and should not require users to learn complex source codes or programming languages just to operate or extend the software. In addition, routine industry-specific processes should be standardized or streamlined through ERP functionality. This functionality eliminates inconsistencies and errors that can creep in when manual processes are being handled by different workers using different procedures or requiring customization of the solution. With this infrastructure in place, employees spend less time performing labor-intensive tasks and can turn their focus to value-added, mission-critical activities.1
4: To improve integration and collaboration within and among locations
In today's global economy, manufacturers often have multiple facilities, sometimes in multiple time zones or countries. Multi-site companies recognize the role technology can play in integrating co-located teams as well as in communicating with remote employees, suppliers and customers. Importantly, ERP systems help organizations lay down standardized processes across different business units and, through configurable settings like units and language, help localize the procedures to fit each site's needs. For example, ERP systems are often leveraged to simplify invoice processing across locations, which can reduce invoice shipping costs and minimize staff involvement. ERP-enabled invoicing and cash collection also ensures that, like other critical data collected across sites, financial information is accessible anytime, anywhere, by authorized users.
In your business ecosystem, Legacy ERP systems often create an environment of unstructured communication, resulting in confusion and a non-collaborative environment. Therefore, the ERP system you select must connect all technological ecosystems within your business's environment, including customer, supplier, and partner applications. Employees also need to access data and run business processes not just from their desktops but from mobile apps as well. The ERP system you select should integrate seamlessly, regardless if the applications are deployed on-premises, in the cloud, or both.1
These four key drivers can help you "take honest stock of the ways your business could and should evolve2," allowing you to set strategic goals. Once you have established and ranked your ERP goals, you can then move from analyzing the big picture to determining the ways ERP capabilities can transform your daily operations and fulfill your business needs.
1: Select an ERP system that keeps up with the evolving needs of manufacturing operations (2020). Infor.
2. Reinbolt, M. (n.d.). ERP software selection process and criteria. SelectHub.
---