After your ERP selection team has factored the cost of implementing a modern ERP system, it is time to assess its value. As discussed in the previous blog, without this key piece of information for the decision-makers, all your ERP selection team's hard work may be for naught.
When presenting your case to the decision-makers about moving to a new ERP, be sure to abide by the golden rule of sales: do not overpromise and underdeliver. Remain realistic and conservative in your estimates on gains from a new, modern ERP system. Until you can accurately measure your results after you go live with your new system, your Return on Investment (ROI) will be more subjective, but there are ways to initially evaluate your ROI for the decision-makers.
Ostensibly, ERP ROI is a simple metric calculated in this way1: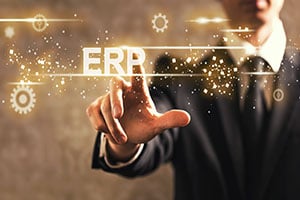 add up the expected return from a new ERP system
subtract the expected costs of the new ERP
divide the result by the expected costs
The resulting quotient, expressed as a percentage, is your new ERP ROI – the larger the percentage, the better the investment. However, the reality is a little more complicated because some of the costs and revenue streams are difficult to measure. The areas that will be most impactful will depend on the current state of your business; however, you can begin with the following commonplace factors that exist across most industries:
Reduced Operating Expenses:
Coming up with a good estimate for your reduced operating expenses will be based on "a variety of factors, from the real estate and utility expenses for housing physical servers, to hourly rates and benefit compensation for your workers."2 Your accounting department is the perfect resource to help you estimate this cost, and once you go live, your new monthly operating expenses will be the best metric to verify your estimate. Be sure to discuss with the decision makers the three main categories where your business will experience a significant cost reduction: labor, logistics, and utility costs.
Labor: A new ERP system will significantly mainstream tasks and processes that formerly required "skilled manpower."2
Logistics: Having all your models (from sales to manufacturing to accounting) pulling from a single set of data will greatly streamline all your logistical processes.
Utility: Your new ERP system should significantly reduce your utility costs, especially if you have selected a cloud ERP solution. No need for excessive real estate to house an on-premises system, back-up systems for disaster recovery, and the cost of cooling on-premises servers and networking equipment.2
More Accurate Data: When data is warehoused in silos, it can be both an inefficient and error-infested process to pull important business figures together. A modern ERP system integrates multiple data streams into one source of truth, which can reduce both man-hours and costly errors in your supply chain and/or customer service operations.
Automated Processes: Also, "potential returns that might not be obvious include the ability to automate processes. Automation will not only help keep production at peak performance, but also enable you to reduce headcount and its associated costs."1
Financial Control: Your modern ERP system will provide more reliable access to real-time data, which will provide a clearer picture of your finances and enhance control of earnings and expenses and cash flow.
Business Forecasting: With heightened visibility into your finances, your senior leaders will be equipped to make smarter, faster business decisions, including setting more realistic goals, making savvy investments, and predicting problems before they can occur.
Simpler Audits: As mentioned above, the functions and features of your new ERP system, when used correctly, will pave the way for more accurate, real-time bookkeeping, inherently minimizing potential accounting errors on your tax return. However, should an audit be requested, investing in a modern ERP system ensures your records are fully integrated into one easy-to-use database.
In addition to the above common business benefits of a new ERP system, you will probably identify returns you never expected to find, especially after you begin using it, and it is critical that you capture those newly discovered gems. Remember, without accurate data of both forecasted and hidden benefits "going into this ROI funnel," neither you nor your investors can appreciate its full value "at the other end."3
Overall, assessing your ROI is the biggest selling point to obtaining the green light to select your new ERP system. When building your case, consider hiring a third-party consultant with experience to ensure you do not overpromise and underdeliver. In our final edition to this series, we will discuss strategies in settling on a new ERP system as well as selecting an ERP partner that best suits your needs.
---