When it comes to courting investment, there is no foolproof recipe for the success of a small to midsize Life Sciences firm. Your path may look very different from your peers', and why shouldn't it? As a unique organization with a distinct offering, setting yourself apart is critical to attracting the right investor.
As you work to define your product and brand, nail down your valuation and fortify your operations, here are three ways an enterprise resource planning (ERP) system tailored to the FDA market could help you gear up for investment.

1. Nail Down Your Market
As you look to optimize your business, you may be curious how your product would fare in a new market or if a new offering or product variation is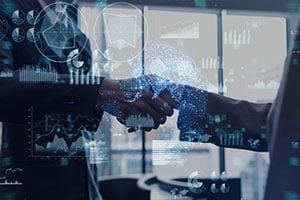 worth the investment. Your ERP system can run sophisticated reports in marketing and sales to help illuminate areas of opportunity. For example, these may prove to be useful decision-making tools when considering a direct-to-consumer option or an expansion into the global marketplace. In addition, an advanced ERP can run "what-if" scenarios and rule-based pricing schemes to assess market trends before launching a new medical device to your customers.
2. Strengthen Your Offering
Innovation is critical to remaining competitive as a biotechnology or medical device developer. But before pouring additional investment into enhancing your product, your ERP system can help forecast demand for specific offerings in various market sectors while considering the costs of labor, equipment and needed materials. Does your potential new product require 3D printing or robotics to execute? Before taking on major changes to your processes or introducing added expense to your operating costs, your ERP can ensure the benefits of a new investment outweigh the risks.
3. Prove Yourself
As a young life sciences organization, you'll need to assure potential investors that you have been taking your FDA regulatory responsibilities seriously despite your hopes for a deal. Firstly, they will look to see that you have been operating compliantly – a review that can be accomplished rather efficiently if you have been utilizing a validated ERP system. Secondly, they will want to understand your processes, and having automated workflows and checkpoints in your ERP system can offer a level of confidence that your operations are organized and consistent. Finally, investors will require transparency into the numbers – those related to productivity and profit. The real-time data streams enabled by your ERP system simplify your ability to run high-level reports, illustrating your value. Be sure to add "painless system integration" to the list of investor benefits for when the deal is done. Given the complexity of this market, it is imperative your firm chooses a partner like The Copley Consulting Group that can provide all this functionality and services expertise in one centralized ERP system.
What are the most important ERP features for life sciences startups? Download our e-book, "ERP System Selection, Implementation and Beyond: A Playbook for SMB Manufacturers in FDA-Regulated Industries," to learn more.
Choosing an ERP Consultant
One-size-fits-all is not an option when it comes to ERP systems. The Copley Consulting Group knows there are several factors to determine the right fit for your organization. When working to implement your ERP solution, Copley can provide the technology and support needed for your specific industry and business when choosing between cloud-based or an on-premise ERP. To discuss the right ERP system for your organization, complete our contact form, call us at 855-884-5305, or email us at info@copleycg.com.
---