Imagine a future where the dashboard is not the first-place executives go after they pour themselves a cup of coffee. Although dashboards will never truly disappear, artificial intelligence (AI) is on a mission to fundamentally transform them, and perhaps one day, render them obsolete.
I Want My Data My Way
Dashboards are still crucial for all businesses, and they probably aren't going away anytime soon. Still, for every "company power user who lives in their dashboards and cannot imagine a workday without them," there are countless other users who could benefit from data insights but will never become a "dashboard jockey or a BI expert." But as AI and machine learning tools evolve our user experience, the average user no longer has to. Creating data experiences outside the dashboard by embedding, customizing or integrating analytics into other platforms that users prefer is flipping the script1 on how and where we utilize data in our everyday work routines.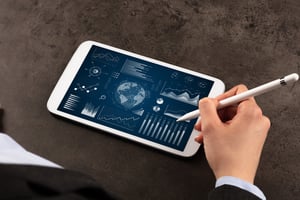 Push Don't Pull
As AI improves, so does its delivery system for data and decision making. AI knows what we need to know, as well as when and where to deliver it. Often, we come to the data, usually launching our visit from the dashboard. But now, AI is beginning to push our data to us in our favorite app or our most used platform, possibly rendering the dashboard superfluous one day. This "shift to in-context data stories," driven by AI, "means that the most relevant insights will stream to each user based on their context, role or use."2 Moreover, these insights should then integrate into our workflows and business processes and mobile devices, making it easier for us to take action without ever having to switch platforms, apps or even having to stay chained to our computers. Thus, when we receive alerts, we can take immediate action no matter where we are.
Mr. Owl, How Many Clicks Does It Take To Get to the Center of a Problem?
It shouldn't be more than three, according to Tootsie Pop's Mr. Owl and about every business user who wants an effective, accessible dashboard that can provide insights after only two sips of coffee. Dashboards are fundamental in providing users with key performance indicators (KPIs) and alerts, but how easy is it to drill down to determine the "why" of any issue? Soon, AI will do the drilling, and as long as we create "well-structured and well-defined metrics," AI will also learn what is and isn't important to the overall business strategy. In fact, "one can argue that there won't be any need for us to drill down at all -- we will simply ask a voice-enabled bot, like Qlik's Insight Bot, a drill-down question and have it fetch the answers we want, better enabling us to move from "dashboard gazing" to resolution and execution."3
My Analytics… My Screen Time…
Whether it's named Alexa, Cortana, or Coleman, AI continues to learn from our everyday data experiences, be they business or domestic. Most of us receive in our morning emails either a "Your Daily Briefing" or a "My Analytics" update from our designated AI, and the more we provide feedback on or work from those updates, the better AI becomes at not just assessing but anticipating our business needs. According to Forbes, "with the packaging of curated insights and autonomous actions" that AI has begun to deliver, "the role of today's dashboards will continue to diminish as the pursuit of fully-automated operations and digital transformation marches onward."
1: https://medium.com/@manrai.tarun/dashboards-are-dead-c1116cfebb60
2: https://www.gartner.com/smarterwithgartner/gartner-top-10-trends-in-data-and-analytics-for-2020/
3: https://www.forbes.com/sites/forbestechcouncil/2019/07/23/will-ai-kill-the-dashboard/?sh=549453531cb5
---