It's a common request. Make data analysis easy to leverage so people can continually improve operations and forecast supply and demand. That's what IT teams at manufacturing organizations keep hearing from plant managers, sales teams, and executives. That's not all. They also want the data in real-time to be able to make informed decisions on the fly.
Finding a way to provide the right data quickly and with little heavy lifting is particularly important in manufacturing, an industry that tends to employ smaller IT teams. Reducing the workload is critical so IT resources are not fully consumed every time a request for analytics arises. Ideally, non-technical business users need to be able to access data without asking for help. So, what's stopping them?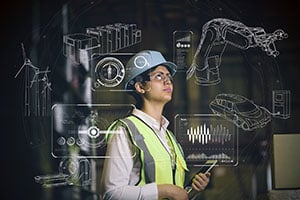 Traditional SQL Databases Fall Short
One of the roadblocks to having valuable analysis at your fingertips is that business intelligence solutions for manufacturers have traditionally relied on relational databases that utilize SQL query-based analytics. While SQL can pull data from many sources and facilitate data modeling, the resulting analysis can only tell part of the story because it's restricted to partial subsets of the data.

In order to tap into those subsets in a way that lets them paint the bigger picture, IT must bring them together, which requires configuring SQL Joins. IT staff must also make assumptions about the types of queries that users will submit because the analytics need to be "built" in advance. So, there's a good chance that some of the necessary data won't be included.

For example, if a plant manager for a television manufacturer wants to determine why picture tube components take too long to assemble, complex database queries have to be re-built because this is the first time someone is looking for the answer to that particular question. With a traditional SQL database, this usually means going to the IT team for help, which can significantly delay the process. But there is an easier, faster way.

Associative Engines Make Analyses Smarter and Faster
The key to generating a tailored, comprehensive analysis – quickly – is to deploy a business intelligence solution that complements SQL technology with an associative engine. An associative engine provides three key capabilities so that no data gets left behind:

Combines large data sets from multiple sources
Aggregates and indexes the data to find possible associations
Runs on-the-fly calculations to expose related and unrelated values
These capabilities enable business users to conduct interactive, free-form analysis without any help from IT. Frontline manufacturing personnel and management teams can search and explore a much broader set of data and discover new insights that traditional relational database queries are simply unable to provide by themselves.

Take, for example, a plumbing systems manufacturer that services markets in multiple global regions. A manufacturing manager can continue to use a SQL database, integrated with an associative engine, to improve supply chain logistics. In doing so, he can quickly and easily analyze varying factors such as material prices, exchange rates, growth stages, customer preferences, and the forecasted demand for each region. Obtaining this information requires collecting data from multiple internal systems and online resources. However, it does not need to be a complex, time-consuming process. By linking an associative engine with the SQL database, anyone on the manufacturing team can run the analysis without involvement from IT.

A Win-Win for IT and the Business
For manufacturing IT teams that need to deliver unique analytics on a regular basis, a database that leverages associative engine technology removes the complexity and enables the manufacturer to get the full picture. Not only can IT make it easy to bring together data from multiple sources, but non-technical personnel can drill down through simple searches for specific intelligence whenever they need it.
Choosing an ERP Consultant
One-size-fits-all is not an option when it comes to ERP systems. The Copley Consulting Group knows there are several factors to determine the right fit for your organization. When working to implement your ERP solution, Copley can provide the technology and support needed for your specific industry and business when choosing between cloud-based or an on-premise ERP. To discuss the right ERP system for your organization, complete our contact form, call us at 855-884-5305, or email us at info@copleycg.com.
---