As discussed in the first blog in this series, manufacturing has seen a slowdown over the last year, both in terms of demand and job growth. It's hard to know exactly when a recession will occur, but when faced with signs of a slowdown, manufacturers are wise to be proactive in evaluating their operations before action must be taken.
Fortunately, ERP systems and analytics platforms such as Qlik can help decision-makers keep a pulse on key performance indicators and discover new business opportunities. And their value goes beyond the C suite. Today's analytics platforms can empower a manufacturing workforce to work more resourcefully – which can be particularly valuable when pivoting into a new line of business or trying to maximize productivity while short staffed.
In this blog we'll talk through three ways you can leverage analytics to empower your employees to work smarter in 2020.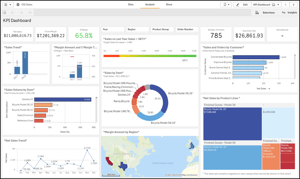 1. Democratize Your Data
Traditionally, business intelligence (BI) has come in the form of a customized print report pulled by your IT team and delivered to your department head. But in today's uncertain climate, delving into your organizational data shouldn't be a once-in-a-week activity – and it shouldn't be reserved for those at the top.
While there will always be need-to-know data reserved for authorized users, today's analytics platforms are built to help everyone at your organization gain insights and discover opportunities about the way they do business. By granting workers access to a user-friendly and interactive interface that promotes exploration, they can answer questions as they arise. And by using a platform equipped with data visualization tools, even the least tech-savvy of users can find relationships, discover outliers and gain insights without waiting for a report from IT. By empowering employees with BI, manufacturers open the doors of innovation to their entire workforce during a time when it's needed most.

2. Make Informed Business Decisions, Quickly
As your leadership evaluates your operations, you may find that the best way to thrive during the present slowdown is to shift your geographical focus, take on a new partner or break into a new product area. This could come down to your ability to make big decisions in a small amount of time.
Having a start-of-the-art analytics platform gives your organization the power of to delve into critical business intelligence directly from your ERP system. Need to determine the current bandwidth of your production team? Wondering if you have the inventory to fulfill a prospect's rush order? Grasping new opportunities often hinges on timing, and with the ability to pull reports and create dashboards from up-to-the-minute ERP data, your team can to deliver real-time answers and make informed decisions in a snap.
3. Foster Collaboration

Finding smarter ways to work together is an important challenge for teams who are down a member or two. And for organizations who are branching into new markets, collaboration is critical to a successful implementation process.
Fortunately, analytics platforms like Qlik can encourage interdepartmental partnership by bringing together disparate data sources across your organization. With simple data integration tools, you can easily connect file-based sources like Excel, databases, HTML and XML web content, and big data sources like Hadoop, Teradata and Cloudera. Once data has been linked, Qlik applies associative data indexing technology to dynamically compute results and reveal data relationships. No more bouncing from CRM to ERP to your data warehouse. Through simple actions like search and select, employees can dig into the data to uncover opportunities for cross-functional collaboration at every point along the supply chain.
What business problem are you looking to solve?

Discover how The Copley Consulting Group's
Qlik Services
can help your organization.
Choosing an Analytics Consultant
There are few industries as complex and data intensive as manufacturing organizations. The Copley Consulting Group knows there are several factors to determine the right fit for your organization. When working to implement your analytics solution, Copley can provide the technology and support needed for your specific industry and business. To discuss an analytics solution for your organization, complete our contact form, call us at 855-884-5305, or email us at info@copleycg.com.
---