As an early-stage life sciences manufacturer, you may have plans to release your product to the global market. In order for it to be commercially available on an international scale, approvals from more than one regulatory authority will be required.
What's the best way to prepare for the many checkpoints involved in obtaining regulatory approval in the US and beyond? In this blog, we discuss some key considerations for how you can "go global" by leveraging your ERP system with a global partner.
Unified Operations
Ensuring compliance in your daily operations is critical to a successful regulatory review. If you are a business operating in multiple international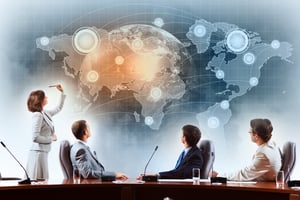 locations – or plan to expand your footprint in the future – having a transparent, centralized system for logging and tracking your operations can be immensely beneficial.
Before adopting an ERP system, be sure it is properly outfitted to fulfill the language, function and regulatory needs of the countries you'll be doing business in. Some ERP solutions come equipped with "country packs," which contain country-specific code to enable localized features. These features may be legally required in that specific country or may simply facilitate ease of use in that locale. Importantly, country packs can be an economical option as they allow software to remain lightweight – using the same base technology and interface across locations, while tailoring the user experience across global facilities.
A globally-minded ERP partner can also help you simplify your operations across multiple locations. For example, The Copley Consulting Group and Gradient Consulting formalized a services partnership to extend Copley's Infor CloudSuite™ Industrial (CSI) services offerings to Europe. This has allowed customers such as G.W. Lisk to implement Infor CSI across both its US and European locations for improved reporting and scheduling, better inventory management and improved on-time deliveries to customers.
Regulatory Approval Support
As discussed in an earlier blog, accurate recordkeeping, including up-to-date versions of quality documentation as well as your device master record and design history file, is necessary for compliance. This is doubly important when you plan to seek out market approval beyond the United States.
Requirements for market approval in other countries will differ from those of the FDA. For example, obtaining a "CE marking" for a medical device in the European Union is a unique process with distinct checkpoints. Investors may want your company to demonstrate a viable strategy to achieve tandem accreditation for your product, so FDA and CE approval can occur concurrently. In the years ahead, the differences in these processes may be resolved so medical devices have a streamlined approval pathway in both the US and EU, but until then it will be up to manufacturers to straddle these two roads to market as efficiently as possible. Because dual approval often requires duplicate testing of products, having an ERP system configured for complex recordkeeping can be hugely valuable in developing and executing a global regulatory approval strategy.
Conclusion
Going global with your operations and/or your market release can be a daunting process. With the competing priorities that come with getting your venture off the ground, it's easy to postpone addressing the many adjustments your company will need to make to adapt to international requirements. Having an ERP system equipped with country packs and flexible recordkeeping functions is one way to prepare – and to assure your investors that you are prepared – for a global ramp-up when the time comes.
Choosing an ERP Consultant
One-size-fits-all is not an option when it comes to ERP systems. The Copley Consulting Group knows there are several factors to determine the right fit for your organization. When working to implement your ERP solution, Copley can provide the technology and support needed for your specific industry and business when choosing between cloud-based or an on-premise ERP. To discuss the right ERP system for your organization, complete our contact form, call us at 855-884-5305, or email us at info@copleycg.com.
---